The Independent National Electoral Commission (INEC) has denied claims that Nigerians would be allowed to vote in the 2023 election without their Permanent Voter Card (PVC).
INEC made the clarification after some messages and claims emerged on social media platforms stating that registered voters who could not get their PVCs can still vote in the elections.
The message which claimed to have originated from INEC has been circulating on WhatsApp, Twitter, and Facebook.
It reads: "Even if you are registered but couldn't get your PVC, go to http://cvr.inecnigeria.org/vvs, type in your State, LGA, your last name and first name, your date of birth and send," the message reads.
"Print out your displayed info, go to your polling unit on election day, present it to INEC Officials during accreditation and they will allow you to thumbprint on BVAS, which will confirm you by bringing out that same info you are holding, then, you are accredited to vote."
Another post on Facebook claimed that registered voters without a PVC can vote using just their name, thumbprint or voter identification number (VIN).
"Dear friends come out en mass, even if you are yet to get your PVC, use the temporary one i.e the registration printout/slip, what INEC ad-hoc staff needs is your name/VIN and your thumbprint," the user wrote.
"Even if you don't have PVC or VIN but you know the exact polling unit that you are supposed to cast your vote ask them to use your name and thumbprint to verify you," the Facebook user claimed.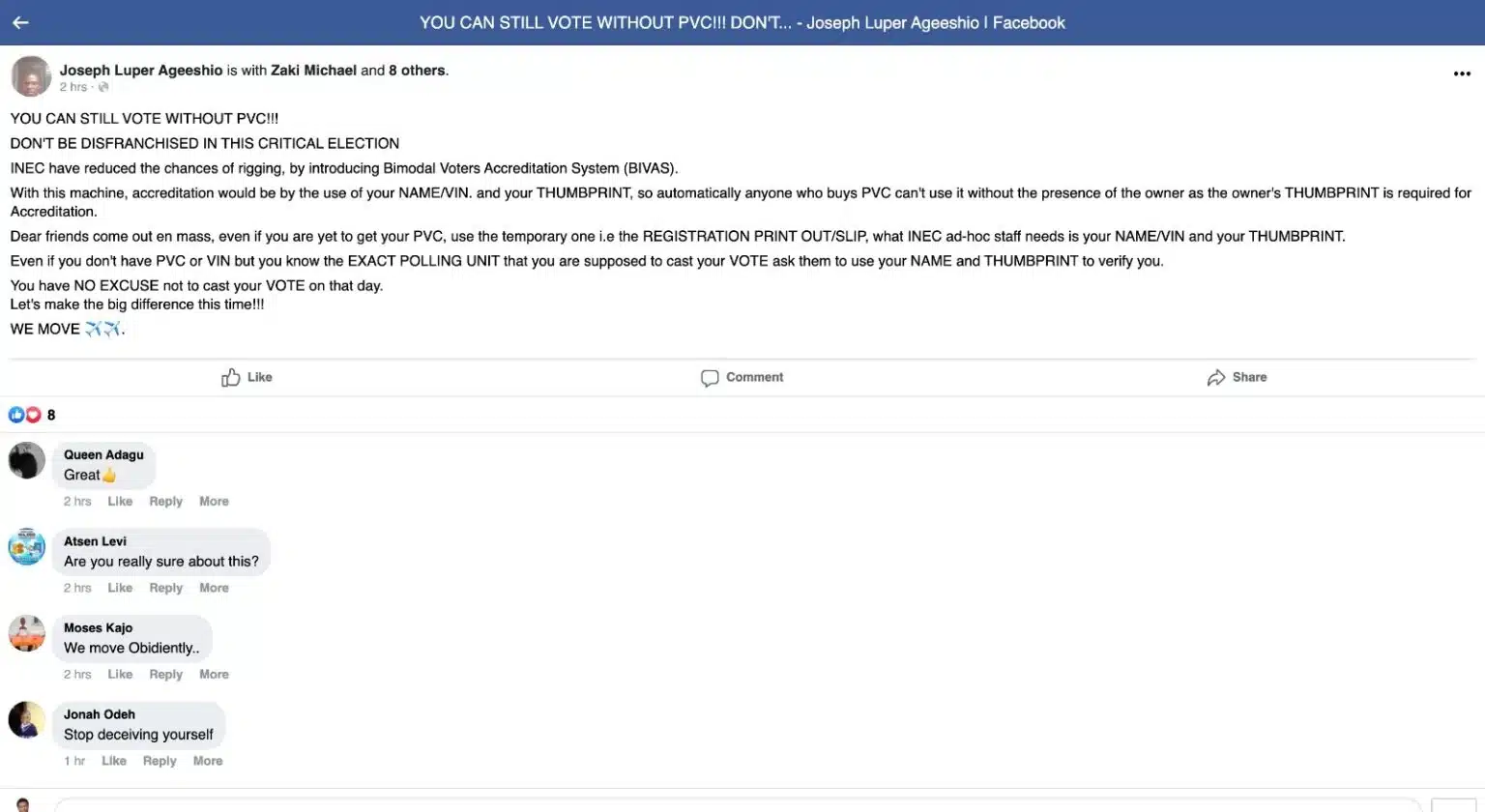 However, INEC spokesperson, Rotimi Oyekanmi has denied the authenticity of the claims and called on Nigerians to disregard them as fake news.
Speaking with TheCable on Friday, he said: "The message is not from INEC. It is fake. To be sure, our policy of no PVC, no voting remains," he said.
"We urge Nigerians to disregard the fake narrative. Every eligible voter is required to have his or her permanent voter card (PVC) at the ready when polling units open tomorrow Saturday 25th February at 8.30 am. No voter without a PVC will be allowed to vote."
We also recall the INEC chairman, Professor Mahmood Yakubu while speaking during a media briefing at the national collation centre on Thursday, reiterated that without a PVC, there is no voting.
"The procedure for voting as provided in the Electoral Act 2022, clearly makes the use of the BVAS mandatory. So also, the use of the permanent voter's card (PVC). The no PVC, no voting rule subsists," he said.