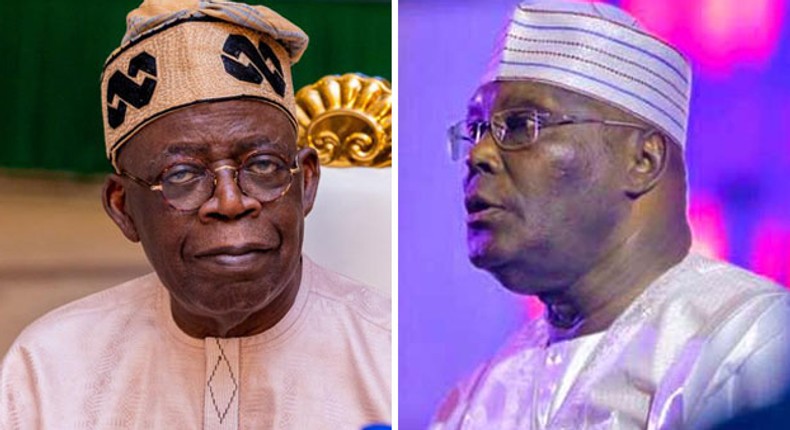 Bola Tinubu and Atiku Abubakar. (Channels TV)
The Peoples Democratic Party (PDP) candidate in the Saturday, February 25, 2023, presidential election, Atiku Abubakar has made reference to a publication in an Austrian Newspaper that described president-elect, Asiwaju Bola Tinubu as "a suspected drug baron."
The former Vice-President said this while addressing a world press conference on Thursday, March 2, 2023, where he announced his rejection of the outcome of the general elections of Saturday, February 25, 2023.
Atiku accused the Independent National Electoral Commission (INEC) of carrying out unprecedented manipulation and fraud in the process that produced Tinubu as Nigeria's president-elect.
According to him, the processes and outcome of the presidential and national assembly elections were grossly flawed and as such must be challenged by every Nigerian.
He said just before he arrived at the venue of the press conference, he read as an Austrian newspaper said Africa's biggest population has just elected a "drug baron" as president.
Atiku's words: "Just as I was about to enter this conference hall, the chairman and I read an Austrian news report that a Nigerian drug baron has emerged as the president of Africa's most population. I want to believe that this is not the legacy that President Muhammadu Buhari has promised, for president Buhari, it's not too late to make amends for the good of our country and the future generations and indeed to assure his legacy."
Earlier in the day, a screenshot of the said newspaper had trended online in which Tinubu was said to have reportedly been linked to drugs but has never been convicted.
An Austrian newspaper.
Published in German (the official language of Austria) and loosely translated to English, the news item read:
"Bola Ahmed Tinubu wins ballot in Nigeria.
"A troubled election in Africa's largest economy has resulted in a powerful and very wealthy politician as the future president.
"The government candidate Bola Ahmed Tinubu also won 36 percent of the votes, as announced by the electoral authority on Wednesday morning.
"He has been repeatedly linked to drugs and corruption, but has never been convicted."